The recent XXKP9 2.3.4 updates for Samsung Galaxy SL I9003 proved a mess for users. The issues like forced switch off and dysfunctional camera were reported by many users. To help those users who installed XXKP9 2.3.4 updates we have come with a proper solution.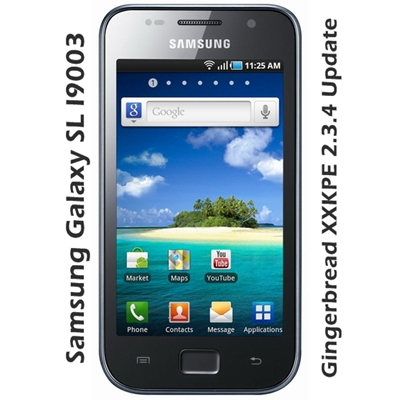 Instead of rectifying each bug, the best way would be to update Samsung Galaxy SL I9003 firmware version to Gingerbread XXKPE 2.3.4. It is an advance and very stable version available for Galaxy SL I9003. Readers must understand that updating firmware is quite a simple task but requires a lot of caution and care. Moreover the method described below is only applicable for Samsung Galaxy SL I9003 Smartphone with Gingerbread XXKP9 2.3.4 updates. Experimenting with any other Smartphone will cause definite problem in that device.
Preparing to Update Samsung Galaxy SL I9003 to Gingerbread XXKPE 2.3.4 Firmware:      
Below are few very important steps to be considered before updating any Smartphone:
Create backup of important data present on your Android Smartphone. Backup contacts, messages, multimedia files etc. Failing to do so might cause permanent damage to phone if something goes wrong during the Update.
Write down important settings such as APN and MMS. Those settings will be required after finishing the Update.
Ensure availability of a compatible USB cable to connect your phone with PC or laptop.
Remove the external SD card and SIM card from phone. This is done a precaution to prevent any accidental deletion of data.
Procedure: The procedure has been discussed via following points:
Download XXKPE Zip Package from a safe location from internet.
Extract the content of that zip file to a folder on PC or laptop.
Switch-off Samsung Galaxy SL I9003 and then set it to download mode. (press Volume Down key + the Home key and holding them switch-on the device)
Visit the newly extracted folder and execute file  odin.exe
Now connect phone with help of a USB cord and wait will ID:COM box turns yellow
The selections will be as follows:

BOOTLOADER >>APBOOT_I9003XXKPE_CL409735_REV08_user_low_ship.tar.md5
PIT >> latona_20110114.pit
PDA >> CODE_I9003XXKPE_CL409735_REV08_user_low_ship.tar.md5
CSC >> GT-I9003-CSC-MULTI-OXAKPE.tar.md
Phone >> MODEM_I9003XXKPE_REV_00_CL1041909.tar.md5

Click start to begin
Wait for process to compete and do not detach phone from PC until it finishes successfully.