Most of the users get irritated with soft boots, specially when you have lots of android apps running on the background. How cool it would be if your favorite apps like Facebook, Twitter or G+ automatically start after a reboot, so that you can join your social world before getting back to your routine mobile usage or any other serious thing in your mobile.
Needless to say, restarting apps after reboot consume time and when it comes to time,nobody wants to wait or restart apps one by one. Lets put everything aside and introduce Auto Start, which is a new app in android market which is now Google play to help you in auto-restarting your favorite application in one go. Auto Start allows you to select your favorite app like social networking apps, security apps,eBook reader etc which you want to restart automatically after the reboot but unfortunately you can select only single app. The apps works well on both rooted or non-rooted devices.
When Google or your device manufactures can ship your device with bloatware or crapwares, then why cant you have the same freedom to select apps which you want to see in your device after reboot.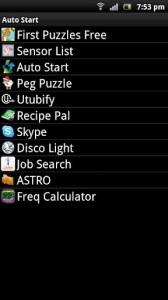 Auto Start app comes with a very nominal UI (user Interface) without colors and designs. You can simply select app from the main screen. The Auto Start doesn't allow selecting a app from stock gallery that means not a pre-loaded app like messages, music player app. You can only select third party apps means non-preloaded android apps.  After selecting your favorite app and switching the Auto Start Toggle 'On', you need to simply reboot your device to check whether the selected app is automatically running.
If you are one of those who want to start a specific app after rebooting your android device, then Auto Start is unquestionably the right choice for you. Just Download and Install Auto Start from Google Play to get Started.